Buyers Looking for Boats:

---
May 2016; Wanted Islander Freeport 36 in good shape, must pass insurance survey. Prefer West coast but consider shipping great boat as part of overall cost comparison. US location only. Not looking for a project boat with pox or structural issues. Nice boat that needs engine work possibly. Please send pictures and descriptions with asking price. Serious buyer ready to go sailing again.

Hope to be an Islander owner and join soon.

Tom Lauzze
Email: Tczz@earthlink.net<>BR>

---
Boats for Sale:

---
1972 Islander Scorpio for Sale

I purchased the vessel in March 2013 in Long Beach. We Sailed the boat to San Francisco Bay and kept her there for a year. Since then the boat has been at Pillar Point Harbor.

Since purchasing her in 2013:
New
- Standing Rigging
- Through Hulls
- Furling Jib
- Garmin Chart plotter 741xs in Nav Pod at Helm
- Radar
- Depth sounder
- Bottom Paint
- Top Paint
- Air Head toilet

Universal diesel with less than 900 hrs.

The boat is dove on every 3 months with bottom cleaned and zincs replaced.

Everything is in good working order, ready to sail.

Some pictures below.

Asking: $25,000


| | | | | |
| --- | --- | --- | --- | --- |
| Cabin - Forward | V-Berth | Cabin - Aft | Galley | Engine |
Ryan Brooks
Email: brookstruckee@gmail.com
808-895-6570

3/20/17


---
Rare Classic 1971 Islander 34 Yes, Islander 34 for Sale

This is a great live aboard boat. I lived on it for five years. I started restoring this boat, and then I had two kids. Time to let the dream go, and focus on reality.

I put a lot of work into this boat. Most of the major work is done, but in reality even a new boat is major work. All it needs to be seaworthy is a boom, and gudgeon. (I am a diver, and can install a new gudgeon without a haul-out as part of the deal.) The biggest remaining project is installing the engine. The rest of the work is mostly cosmetic.

I have put over $10,000 into this boat not including a practically new Universal Diesel. I did't cut any corners on my projects. I purchased the best parts, and materials. Upgrades, and restored parts include: New 12V and 120V electrical throughout the boat including lights, wiring, panels, and instruments. VHF radio, and Stereo system. Top of the line on-demand water pump, and tubing. New rigging, wiring, and lights throughout the mast. Newly painted mast. 12 V refrigerator. Six gallon hot water heater that runs off 120, or heat exchange. Custom built galley. Two 50W solar panels. All though hull fittings were replaced. There are no blisters, or rusting of the keel. Has a full keel.

Universal Diesel engine with only 500 hours on it. Diesel motor is not installed. Old motor was pulled out. Shaft, prop, packing gland, and cutlass were not salvageable. I pulled everything out, and closed the opening with fiberglass. Installing the motor is the biggest part left for restoring the boat. There is an outboard bracket installed on the back of the boat. A 9.9-25hp motor can be put on back so the boat is usable until inboard motor can be installed. I motored the boat down from Morro Bay with an outboard, so it is quite seaworthy with an outboard.

This is a very rare classic blue water boat, and was built back when boats were built right. If fully restored this boat would be worth $25,000-$30,000, and you could be on your way to Hawaii. Boat is on a mooring ball in Americas Cup harbor. Ball does not come with boat, but arraignments could be made to keep it in the moorings depending on mooring company approval.

Some pictures below, and for more, use this Craigslist Listing Link.

Asking: $7,000 OBO


| | | |
| --- | --- | --- |
| On mooring | Looking forward | Looking Aft |
| Galley - Nav station | Electrical | Engine |
Donovan McHenry
Email: donovanmchenry@hotmail.com
858-229-7195

1/3/17

---
1979 Islander 36 Simple Pleasure for Sale

For pictures and a complete description, click Simple Pleasure.

Asking: $49,000

Debra Tucker
Email: rollercoaster44@yahoo.com

12/23/16

---
1982 Islander 36 Linsky for Sale

I am sadly going to sell my 1982 Islander 36.

I purchased her 14 years ago, and totally re-did everything. Her hull was completely redone, down to the tiniest blister. I had all of the plumbing changed out in the head, and a new cushion made. (to name just a few things).

2 jib sails (one furling)
1 main
42 hp pathfinder diesel
Wind vane
Depth sounder
Garmin gps with navigation chip
Auto tiller
Inflatable dinghy
Sleeps 6
Long anchor line with chain

I have all of the reports from the guy who cleans the bottom. Her zincs are changed regularly, and her props are good.

She sails beautifully... But we have no time for her, and it is sad that she has just sat there this last year, only being sailed a few times.

She has had NO issues what so ever, the whole time I have owned her... She is a great boat...



Islander outside

outside 2

cockpit

entry

Islander cabin

inside

nav station

forward

head
Location Shoreline Marina, Long Beach, California.

Asking: $30,000

Lisa & Daryl Orenge
Email: yourrealtorlisa@yahoo.com


11/21/16

---
1981 Islander 36 Vixen for Sale
| | |
| --- | --- |
| Page 1 | Page 2 |
Asking: $39,000

Trevor Evans
Email: treefarm_vt@yahoo.com
802-489-0529 H
802-323-8881 C

9/22/16


---
1976 Islander 36 Imagine for Sale

We purchased the boat last year and sailed/motored from Salem, Massachusetts to Okeechobee Florida and put her on the hard in May, this year. We had plans to return in October to head to Cuba, but health issues have changed our plans.

She is a great boat, and we put quite a bit of money in her:


Sails in great shape
Engine 1984 Perkins 4-108 runs great
All new engine hoses
100 amp alternator
Almost everything 12 volt
All new through hulls
100 watt solar charging system
New keel bolts
New electronics
Only ice box
| | | | |
| --- | --- | --- | --- |
| Imagine | Welcome below ... | Main cabin ... | Looking aft ... |
| Galley ... | Forepeak ... | Engine ... | Back to cockpit. |
She can be viewed at the boat yard we she is her stored.

Asking: $25,000 looking for a quick sale!

Jeanny Aldrich
Email: greenbeanjean@icloud.com
(603)499-1445

9/15/16


---
Islander 36 Makani for Sale

I have decided to sell my beautiful Islander 36, The Makani in which I have invested $175,000.00 and three and a half years of my time.

Everything on this vessel has been replaced or refinished to practically new condition. You can see the Makani on Popyachts.com. There are many pictures of her there. She is berthed in Sausalito at the Liberty Ship Marina.

Link to Makani Varnish Work


| | | | | |
| --- | --- | --- | --- | --- |
| Time to squeeze in ... | beautiful Makani ... | From gleaming anchor ... | teak decks ... | cabin top trim ... |
| comfy helm ... | nav station ... | galley ... | forward ... | & transom ... |
Asking: $68,000 This would be the same as buying a brand new Islander if they still made them at a fraction of the cost.

Dan Hendrickson
Email: danhendo67@gmail.com
415-720-7764

8/13/16


---
Rachel Rose 1972 Islander 36 for Sale

Hi Everyone -

After 45 yrs selling boats (hundreds of Islanders) on SF Bay we have retired and moved to the foothills; our I 36 l972 is for sale.

l0 yr old Yanmar diesel
Roller furling jib
Pedestal w/auto pilot
Self tailing winches
Newer interior cushions and headliner

Many extras

Listed with Passage Yachts, Mik Mcguire Jack London Square

Located at Marina Village - J 31 Dock Gate 9

Asking: $24,000

Call DON AND BEV WILSON (510) 212-8940

Email: enterpriseyachts@yahoo.com


| | | | |
| --- | --- | --- | --- |
| IMG_0469 | IMG_0468 | IMG_0470 | IMG_0466 |
| IMG_0465 | IMG_0461 | IMG_0462 | IMG_0463 |
| IMG_0460 | IMG_0464 | IMG_0467 | IMG_0459 |
6/17/16


---
1978 Islander 36 for Sale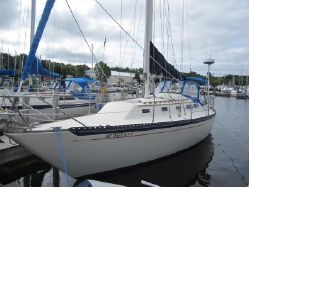 Located in Whitehall, Michigan, on White Lake and beautiful Lake Michigan.

For more details follow this link:
http://www.yachtworld.com/core/listing/pl_boat_detail.jsp?&units=Feet&id=2861304&lang=en&slim=broker&&hosturl=torresen&&ywo=torresen&

Asking: $35,995

Ben Rosene
Email: forsrose2@gmail.com

3/6/16


---
Sails and Parts for Sale:
---
From Kate (ex-Vitesse):

I have a self-tacking jib boom for sale.

I purchased Vitesse in 2014 from Tom Furlong who had fitted her with a very nice 90% jib, jib boom and Sunbrella cover. I converted to a roller furling and am now selling the whole package: jib boom and associated hardware; a serviceable 90% jib; and the sunbrella cover. Photos are below.

The measurement of the boom from tack to clew is 12' 9". It is attached directly to the forestay and cannot be used if a roller furling is in place. I have all blocks and attachments.

I'm asking $400 for the whole setup. Feel free to call me at 925-858-6846 if you are interested or have questions.

Best,

Curt & Lisa Rodgers
rodgerso30@gmail.com
11/15/16



In Place

Tack end with
trimming blocks

90 % Jib

Sunbrella cover

All laid out
---
From Frolic:

Spring cleaning reveals several I36 specific and other parts someone may be interested in:

1. Fitted bedding, V-berth (cleaned before being stored)
2. Fitted bedding, two salon bunks (cleaned before being stored)
3. Curtains for four large and six small cabin ports (fittings for grooved strips)
4. Cockpit aft lazarette lids (pair)
5. Harken deck organizers (2)
6. Miscellaneous - a wide range of stuff, for example: Racor 500 fuel filters, blocks, compasses, to brass cabin hardware; feel free to ask for something in particular.

I'm open to cash, barter, donation to a charity…. No reasonable offer refused.

Best,

Steve Hodges
steve.hodges@cox.net
3/1/16



bedding

cutains

deck organizer

lazarette lids

miscellany
---