Islander 36 Prices

This page has been established as a posting place for those interested in buying or selling an Islander 36 or other boats included in the Association.

We are occasionally asked about Islander prices. Prices vary a lot. There was an '83 or '84 asking $60,000, an '81 was listed for $49,500, though we've heard of hulls needing a lot of work for around $30,000 or even less. One boat that had been purchased after being underwater for a while went for $4,000 and one on the hard in Spain for a year went for $10,000.

Several have had complete make overs for $20,000 and up. So, people are willing to invest a good deal in Islanders. A typical survey replacement value new would be in the neighborhood of $125,000.

A lot depends on the year and the condition of the boat. A smart buyer will insist on a marine survey. If you haven't had one in a while, you might get one and that will help you a lot in knowing the relative condition and value of your boat. Gas vs diesel is not usually a major factor in pricing. The condition of the sails is probably more important than the number -- a boat in top racing condition would generally have a higher price, but there are also probably fewer buyers looking at Islanders as racing boats than cruising boats.

Our ground rules for this page are simple. All parties must provide their name and e-mail address, phone contact is highly encouraged. Sellers must be Association members, describe the boat, it's general condition, and location. We will post the listing, including the date of posting, and remove the listing in 3 months or if the transaction closes.

To post a listing email Webmaster Rick Van Mell.
Buyers Looking for Boats:

July 2016; Want to Buy: Islander 36.

Looking for a boat located in the Pacific Northwest - US or Canada. Willing to put some work into the boat, but must be in decent shape and currently able to sail.

Please email details to Adam Berti at adam5579@me.com, or call 403-585-5693.


---
May 2016; Wanted Islander Freeport 36 in good shape, must pass insurance survey. Prefer West coast but consider shipping great boat as part of overall cost comparison. US location only. Not looking for a project boat with pox or structural issues. Nice boat that needs engine work possibly. Please send pictures and descriptions with asking price. Serious buyer ready to go sailing again.

Hope to be an Islander owner and join soon.

Tom Lauzze
Email: Tczz@earthlink.net<>BR>

---
Boats for Sale:

---
Rachel Rose 1972 Islander 36 for Sale

Hi Everyone -

After 45 yrs selling boats (hundreds of Islanders) on SF Bay we have retired and moved to the foothills; our I 36 l972 is for sale.

l0 yr old Yanmar diesel
Roller furling jib
Pedestal w/auto pilot
Self tailing winches
Newer interior cushions and headliner

Many extras

Listed with Passage Yachts, Mik Mcguire Jack London Square

Located at Marina Village - J 31 Dock Gate 9

Asking: $24,000

Call DON AND BEV WILSON (510) 212-8940

Email: enterpriseyachts@yahoo.com


| | | | |
| --- | --- | --- | --- |
| IMG_0469 | IMG_0468 | IMG_0470 | IMG_0466 |
| IMG_0465 | IMG_0461 | IMG_0462 | IMG_0463 |
| IMG_0460 | IMG_0464 | IMG_0467 | IMG_0459 |
6/17/16


---
1978 Islander 36 for Sale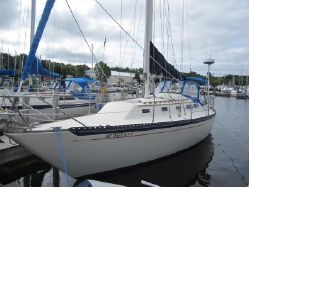 Located in Whitehall, Michigan, on White Lake and beautiful Lake Michigan.

For more details follow this link:
http://www.yachtworld.com/core/listing/pl_boat_detail.jsp?&units=Feet&id=2861304&lang=en&slim=broker&&hosturl=torresen&&ywo=torresen&

Asking: $35,995

Ben Rosene
Email: forsrose2@gmail.com

3/6/16


---
Sassy Girl 1977 Islander 36 for Sale

She Has a deep draft, 6 foot, 4 in lead keel, tall rig with a Westerbeke 30 Diesel engine.

The boat was hauled 6/15, new bottom paint, Micron 66 applied, oil and fuel filters changed and new zinks installed.

During the time we have owned the boat we have made a number of upgrades;

The seats and berths have new 4 inch foam cushions and Sunbrella covers
New Lewmar opening ports, and new safety glass, tinted windows
New electric, household size head with a fresh water flush and holding tank with a T 12 discharge pump with a key switch.
The saloon has been refinished with tree coats of Epfames varnish.

We are relocating to New Jersey next month and must sell our boat.

The boat is at the Fortman Marina, Alameda Estuary, San Francisco Bay. Call or Email us to arrange a visit.

Asking: $25,000 OBO

Call Jim or Ginny Stearley
Cell 559-974-7407
Email: jstearley40@hotmail.com


| | | | |
| --- | --- | --- | --- |
| Beautiful Boat | Main Salon | Galley - Nav Station | Galley Details |
| Forward Cabinets | V Berth | Head Sink | Head |
3/6/16


---
Ava-Nicole (formerly Mes Amis) - 1976 Islander 36

Ava Nicole has been refurbished in 2009.

10/24/12 Update: Recent improvements include new holding tank,a new Jabsco head, new Manual bilge pump and new electric bilge pump (2000) GPH.

Interior has been gutted out with the majority of the teak replaced. All new interior cushion covers as of 2010. Teak-Holly sole has been added. All ten port lights have been replaced. Hull was re-gel coated in 2010 and looks decent as of February, 2016. Deck has been awl gripped. Sink/faucets in galley and head replaced. Plumbing and wiring replaced as needed. Hull has been barrier coated (Interluxe 2000) and painted with Trinidad bottom paint in 2010. Mast painted with Awl-Grip. Engine is a Perkins 4-108. As of February, 2016 the engine, a Perkins 4.108, starts right up and percolates quite well.

Navman Instruments. Chart Plotter 5600, (3100) Wind speed Indicator, Knot meter and depth indicators. Ground tackle: 35lb CQR, 30 lb Danforth. Refurbished S-L Hyspeed Windless. Running rigging replaced as needed. Full set Sunbrella cockpit cushions. New Bimini top as of 2014. All six Barrient winches re-chromed. Four burner propane stove top added in 2013.

Shoal draft version with a five foot draft.

All sails have been to loft for inspection and replacement of sacrificial Sunbrella and new main sail cover as of 2013. Main and 150% Genoa about 75%. Jib essentially unused; hence, at 90%.

In excess of $35,000 in refit spent in in 2009-2010. Will assist in arranging transportation if needed. Boat at Blue Dolphin Yachting Center in Seabrook, Texas (just South of Houston)


| | | | |
| --- | --- | --- | --- |
| DSC00267 | DSC00271 | DSC00275 | DSC00278 |
| DSC00395 | DSC00396 | DSC00398 | DSC00400 |
| DSC00409 | DSC00416 | DSC00421 | DSC00429 |
Asking: $26,000 or reasonable offer.

For more details or pictures, call Steve French, 832-341-7245
Email: sail01@sbcglobal.net

2/8/16
10/24/12


---
Sails and Parts for Sale:
From Frolic:

Spring cleaning reveals several I36 specific and other parts someone may be interested in:

1. Fitted bedding, V-berth (cleaned before being stored)
2. Fitted bedding, two salon bunks (cleaned before being stored)
3. Curtains for four large and six small cabin ports (fittings for grooved strips)
4. Cockpit aft lazarette lids (pair)
5. Harken deck organizers (2)
6. Miscellaneous - a wide range of stuff, for example: Racor 500 fuel filters, blocks, compasses, to brass cabin hardware; feel free to ask for something in particular.

I'm open to cash, barter, donation to a charity…. No reasonable offer refused.

Best,

Steve Hodges
steve.hodges@cox.net
3/1/16



bedding

cutains

deck organizer

lazarette lids

miscellany
---