Buyers Looking for Boats:


I'm looking for a clean, well equipped Islander 36 for a first time buyer, not sailor, buyer on the West coast. He is willing to ship for the right boat.

Thanks in advance. Please feel free to call with questions.

Marc Puckett
(760) 525-3491
2/2/15


---
Boats for Sale:
---
Hell Bitch - 1978 Islander 36 PERFORMANCE CRUISER

HELL BITCH (nee, HUSHWING, nee, DREAMBOAT ANNIE)
AFT COCKPIT SLOOP W/WHEEL
LOA: 36' LWL 30' BEAM: 11'2"
DRAFT: 6'0" DISPLACEMENT: 12,300 lbs. BALLAST: 6,850 lbs.
DESIGNER: ALAN GURNEY BUILDER: ISLANDER YACHTS, COSTA MESA CA.
BUILT 1978. HULL: FIBERGLASS

We purchased Hell Bitch (nee Hushwing) in 1989. Always a Puget Sound based vessel, she has been moored continuously for the past 17 years at the Olympia (Washington) Yacht Club. Upon the insistence of four daughters, she was renamed Hell Bitch after Captain Call's mare in Lonesome Dove.

During the spring and summer, 2004, she was hauled for a hull and rigging makeover: Her original White hull was sanded and repainted Awlgrip 2000 Flag Blue, with Fighting Lady Yellow boot stripes. Her accumulated bottom paint (ten layers) was removed, and three coats of epoxy barrier paint and three coasts of Micron Extra (ablative paint) were applied-the first bottom coat is Red; the two outer coats are Black (when the Red begins to show, the bottom is repainted with Micron Extra). In between, the bottom is cleaned underwater four times annually. Also in 2004, while the boat was on the hard, the original black aluminum mast was un-stepped, sanded, and along with the boom and spinnaker pole, repainted with Emron urethane Black. Her deck and cockpit are White.


Hell Bitch sleeps seven (Two in the Forepeak; Two in the Port Settee; One in the Starboard Settee; One in the Pilot Berth Starboard; and One in the Quarter Berth Port) Her Upholstery and Cushions (Herculon) are in very good shape. A Garmin GPS, FM/AM radio CD player, and VHF radio with telephone handset are mounted on or at the navigation cabinet on the port side. Four radio speakers are arranged throughout the cabin.


Her interior is original except for a hand cut and inlaid teak floor (1/2" thick true teak strips, sawn from natural teak planks) over the original fiberglass floor. Cabin walls are teak paneling. A unique redesigned hand-fashioned solid teak foldaway dining table was created and installed in 2007. The original oak lavatory sink top in the head was replaced with a laminate top in 2013. The SS sink and faucets are original.


The galley SS sink, icebox, range-Kenyon propane three burner stove and oven-drawers, and cabinets are on the starboard side by the cabin entry. Hell Bitch has a pressurized hot/cold water system with a foot pump for fresh water. The galley and lavatory sinks have hot/cold pressurized water, as does the shower in the head. Hot water is off the engine or by shore power. A bulkhead mounted and vented Shipmate kerosene space heater provides heat for the cabin, ample even during winter in the Pacific NW.


Electrical shore power is supplied via a 50' 30-amp cord. On-board electrical power is provided through two storage batteries. When in port, the batteries are charged with a Guest 2610 10 amp, 2-bank, 3-stage marine battery charger. Water pressure is provided by a dedicated pump. Propane for the galley range is stored in an aft locker accessible from the cockpit and controlled with a Marinetics LPG Safety Control System with a shut-off switch in the galley. Two H2O tanks (total 45 gal.) store fresh water.



An automatic Jabsco bilge pump and a manual "Gusher" (operable from the cockpit) manage the bilge. Waste disposal involves a Raritan marine head and a designed waste disposal system with a holding tank for inland waters and a duck-billed macerator and through-hull disposal outlet for use offshore. Through-hull fittings are double-clamped with shut-off valves. All pumps were replaced in 2007.


Raymarine Tridata depth sounder, wind speed, and knotmeter instruments are mounted in a NavPod at the wheel in the cockpit. Hell Bitch has an Autohelm 300 autopilot, which is mounted on the wheel pedestal and stored inside when not in use. A Richie Globe Master Compass (SP-5) also is mounted on the steering pedestal.


A Danforth HT 22# anchor with 30' chain and 300' feet Dacron line is stored in the bow anchor locker (it also can be carried on the bow pulpit for cruising access.)


The engine is a Yanmar 30GMF diesel (three cylinder 27 hp, freshwater cooling). It has approximately 1240 hours use. The prop is a solid brass two-blade. A separate brass IGORI 15x10RH folding prop is available for racing use. A new SS prop shaft was machined and fitted in 2004, along with a new cutless bearing. Fuel is carried in a 27-gallon stainless steel tank.


Sails consist of a North Sails Main (White, new 2009), Gennaker (Blue and White, new 2009) and 135% (recut to 125% and UV shield replaced in 2014) and 110% Jibs, a 3/4 tri-radial Spinnaker by Dewitt (Green and Yellow), and full spinnaker gear. A LZ-Jax system facilitates mainsail raising, dropping, and folding, especially when single-handed sailing.


All 12 winches are Lewmar. The mast mounted winches are for jib (#40/2 speed), spinnaker (#10), and main, (#16/2 speed) halyards. The boom has a #8 reefing winch. Primary cockpit winches are self-tailing (#46/2 speed). Secondary winches are #40/2 speed. Four cabin-top winches are cockpit accessible, for furler (#8), boomvang (#8), main sheet (#16/ 2 speed). and topping lift (#10). Hell Bitch has a StreamStay2 two track foil headstay roller furling system and Harken furling accessories for furling from the cockpit.


The boat has matching wheel cover, sail cover, line bags, and winch covers. Safety equipment includes fire extinguisher, lifejackets floating cushions, and distress signal kits located in the cabin, and a Lifesling (MOB) Rescue System stored in a hard case mounted to double lifeline pedestals in the cockpit, a horseshoe life buoy and a MOB. A hinged boarding ladder is mounted on the stern pulpit. An emergency tiller is stored in the starboard cockpit locker, along with an extra length of anchor line, boat fenders and other miscellaneous equipment.



Hell Bitch is a fast, dependable, forgiving, and responsive sailboat. She is equipped both for performance and for cruising. Her usual itinerary involves local and regional recreational sailing in the South Puget Sound region, the Tacoma, Seattle (Lakes Union and Washington), San Juan and Gulf Island areas, and destination vistas in British Columbia (e.g., Nanaimo, Desolation Sound, etc.) Sunday, weekend, and overnight outings to local islands are common, and although the boat is fast, she is not often raced.

Asking $38,500

William Chance and Alice Vermillion
Email: bcnored@aol.com
360/866-4651, or by cell phone, 360/791-1802

For a PDF file of the description and pictures, click here.



Design drawing

Great sailing

Dockside

Bow on

Cockpit

In the slings

Table up

Heater

Nav Station

V Berth

Head
4/29/15



---
Califia - 1978 Islander 36

1978 Islander 36 with Slip -- Classic SFO Racing Yacht, Inside and Out

Beautifully kept inside that exudes elegance and spaciousness for special social occasions and comfortable living - classic feel without long­range cruising hardware
Updated to be one of the fastest and most reliable I-­?36s out there, proven again in this years strong winds, with numerous placings and trophies (more recent showings available by googling "Califia Islander 36"), including the class win in the 2012 3-Bridge Fiasco
Outstanding, expert work invested in the last decade for years of fun on the water ahead
Fantastic, very safe, assumable slip in Sausalito Yacht Harbor (views of Mt. Tam), only short distance to bathrooms and parking
There's a very friendly and active Islander 36 Association community with cruises, races, events and maintenance/sailing/racing tips. I-36s as one of the few yacht types have their own class starts as part of the local Yacht Racing Association and other regattas

We named her "Califia" because she is from California and built for California (first being called "Gingerbread", and then "Eye Level" by the well-known San Francisco Mezzetta family which owned her for the longest part). This Islander 36 is ideal for the strong Bay Area conditions, she also has a couple of big genoas and a full spinnaker for lighter winds. Last purchase price was $29,000 in March 2010 before over $20,000 were spent on improvements. We'd love to keep her but have to sell for personal reasons.

Recent Upgrades and Maintenance

Re-powered 2012 with new Volvo Penta D1-­?30F diesel and maintained by certified dealer since, ca. 170 hrs. Included new control panel; transmission; new water and fuel filters, antysphon valve; exhaust hoses, water lift and through-hull fitting; new shift and throttle cables; new shaft; rebuilt stuffing box, new cutless bearing; new feathering MaxProp propeller ($2500) with outstanding forward AND reverse power, out of the way when sailing
New stainless steel fuel tank in Aug '08. Bilge pump replaced Oct '08.
Sails in good shape (3 jibs 110 heavy, 155 medium, 155 light). Main and working jib replaced in '09. New main sail tracking system Aug '09
All new running rigging in May '09. Starboard chainplate strengthened down to hull Aug '10. Rig tuned by Scott Easom June '11
Updated electrical system with numerous outlets, new AC panel, circuit breakers, new inport for outside cabel in anchor locker case, LED lights, battery charging layout, battery charger June '11
New blue pattern upholstery '08. New head May '09
Last haulout Nov '12. Regular zinc maintenance and bottom cleaning.
New sail cover Oct '13

We've raced, sailed and cruised this boat more than 40 days this year alone, which is a far cry from some of the boats for sale which have sat degrading for years. Cosmetically she is clean and the wood is all in good shape with the original interior, which consists of teak paneling with teak cabinetry. The top deck could be painted for looks. All the safety, navigation, cruising and sailing inventory is considered part of the boat and sale, this I-36 is ready to go.

Islander 36's are incredible boats that are very roomy, and place well in today's races while staying solid and comfortable. This I-36 is especially elegant and fast to boot.

Pictures



Califia 1

Califia 2

Califia 3

Califia 4

Califia 5

Califia 6

Califia 7




Serious inquiries only to Tim or Franziska Bussiek

at 650-200-6808

Asking $38,000 obo

Franziska Bussiek
Email: franziska.bussiek@gmail.com

Tim Bussiek
Email: bussiek@pacbell.net

10/22/14



---
1970 Islander 37 (Yes, I-37)

Specs for 1970 Islander 37 MS, Islander Yachts Costa Mesa California
Designer: Bruce King
Dimensions: LOA 37' Beam 10 foot 11 inches, Draft 6 feet
Displacement: 16,900 pounds Ballast 5000 pounds lead
Cruising Speed: 6knts at 1800rpm 7.5 max
Engine: Perkins 4-107 with 940 hours since complete rebuild
New Alternator (80 amp) 2010, New engine and tranny heat exchanger (2011)
Rebuilt Starter (2011) Rebuilt Injector Pump (2011) New Injectors (2011)
New Raw Water Pump (2011) New Exhaust (2012)Raw and fresh water hoses replaced (2011)
Fuel line fittings new (2009)
Engine Alarms: Fuel pressure, Oil pressure, cooling temp, Alternator, Raw water flow, Transmission Temp, (2011)
Transmission: Borg Warner Model ASI-71C, 1 to 1 ratio, V Drive: Walter, both with 940 hours since rebuild
Tankage: Fuel, 2 SS tanks total of 80 gallons, cleaned and polished (2012), Emergency 5 gallon tank with electric pump.
Water: 1 85 gallon SS tank and 1 30 gallon bow tank PVC, manifold to control tanks, 6 gallon hot water tank engine heated.

ELECTRICAL
Batteries: 4 golf cart 6V deep cycle in heavy duty battery boxes (2012),Alternator: 80 amp (2010)
Solar Panels: 2x135 watt Kyocera (2009),Solar Controllers: Masson20 amp 3 stage (2009), Morning Star 15 amp (2012)
Generator: Honda 2000EUI (2013), Invertor: West Marine 1000 watt (2014)
Interior Lighting: 9 fixtures with 6 with led bulbs.
Battery Charger: Pro Mariner 30 amp 3 stage (2008), Battery Switch: Perko 3 way, Isolator: Zinc Saver 11 (2006)
Link 1000 Battery Monitor (2008), Electrical System: 12Vrewired in 2008, 110V, Shore Power: 2x 50 foot 30 amp cables plus adaptors

MECHANICAL
BILGE PUMPS: Rule 3700 auto manual switch with alarm, Rule 2000 auto, manual, Rule 500 manual, Whale Gusher hand pump
Bilge Blower: 12V
Fuel Filter: Racor 500 with electric pump, vacuum guage and alarm, Algae X-200 fuel conditioner
Fire Extinguishers 4 handheld (2012)
Head: 1 Air Head composting (no need for holding tank, legal world wide
Shower Sump: all new Attwood system (2013)
Heater: Force 10 diesel
Propeller:3 blade fixed, 3 blade fixed, new spare, PPS Dripless Shat Seal (2010)
Shaft: 1 inch SS (2002), Strut and Cutlass Bearing: (2002)
Steering: 2 station, Cable and Quadrant (cockpit) rebuilt (2010), inside helm, Morse Cable
Rudder: Spade built 2002, dropped, checked, refared and repacked in 2010, Emergency Rudder: Hydrovane
Engine Controls: Morse 2 lever (inside helm), Pedestal mount in cockpit
Engine Guages in Cockpit: Telflex Sahara, oil, water, volt, port and starboard fuel 2008, tach
Engine Guages Inside Helm: Teleflex Vector, oil, water, volt, port and starboard fuel (2008)
Windvane: Hydrovane VXA 2D MHE with 2 vanes and spares

Sails and Rigging
Mast was removed in 2006 and rewired and painted, Mast step rebuilt in 2006 and new standing rigging
Sails: Main with 2 reef points (2010), 135% Genoa (VG), 110% Genoa (VG), Cruising Chute with Sock (VG)
Profurl INC-42 (2006), Forespar 35200 Yacht Rod Boom Vang (2011)
New Running Rigging (2011), Harken Mainsheet Traveler (2011), Whisker Pole, Spinlock Rope Clutches for all lines (2011)
Winches: 2 Barlow 24,s, 2 Barlow 16,s, 2 Barient 10.s

Decks
Dual Bow Rollers
Maxwell 800 Windlass
20Kg Bruce with 300 feet of 5/15 HT
Danforth 1600 with 30 feet 3/8 chain and 200 feet ½ rode
stern rail mount 25 pound CQR with 30 feet chain and 200 feet rode
Nav Lights: original deck level and topmast Tricolor with Anhor light, Steaming light, Spreader Lights
Radar mount on SS pole with outboard motor boom
SS swim ladder
Dodger with full Cockpit Bimini with Port and Starboard and Aft sunscreen
Rail mounted 4hp Mercury outboard
Cockpit Table, Cockpit cushions (2008)
Achilies LS1 8 foot 8 inch inflatable
Main cover with skirt (covers vang), roller furler cover, grabrail covers, toerail covers
winch covers, cockpit helm covers, windvane cover, BBQ cover
BBQ: Magna original size kettle

Electronics
Raymarine C-80 with 24 mile Radar (2006), DMS250 with 600W 200/50 khz
bronze thru hull, ST60 wind speed/direction (2006), Raystar 125 Seatalk GPS (2014)
Garmin GPSMap 4208 Chart Plotter with dual mount for either helm station
with Garmin GPS (2011), Garmin Blue Charts for US, Canada, Alaska, Mexico, Central and South America West coast and Hawaii
Icom IC 710 with MF3 941D tuner, 2 VHF, Standard Horizons Eclipse, Uniden DSC with Hailer auto foghorn
2 wireless mics, integrated GPS
AIS: NASA AIS with easy Auto Antenna Splitter (2009), 2VHF Antenna's
Autopilot: Simrad WP30 with remote (2003), Autopilot: Hydrovane VXA 2 D MHE with 2 vanes and spares
Sonar:Interphase SE200B forward and side scan Sonar (2011)
Systems Intergration: Brookhouse NMUX-AISC with Seatalk, AIS, NMEA, and USB port (2011)
Battery Monitor: Link 1000
Xintrex Carbon Monoxide Alarm (2009), Xintrex S-2A propane sniffer alarm (2009)
Clarion M109 Marine stereo with AM/FM/CD/MP3/WMA with 4 Blaupumkt speakers
Compass: Ritchie 5 inch in cockpit, Danforth 4 inch inside, KVH fluxgate C100

Galley
Refrigeration: SS box with Adler Barbour (2006)
Stove: Force 10 SS, 2 burner with oven/broiler
Water; Pressure water system for galley and head, salt and fresh water hand pumps and cockpit shower
Watermaker: Pur 35 with digitalTDS monitor, hour meter and spares
1 SS sink in galley, 1 SS sink in head
Toaster oven, pots, dishes, etc

Ventilation
6 13x13 bronze ports, 2 aluminum sliding ports in cockpit, 2 Dorade vents
Endless Breeze 13x13 12V fan, LG 8000BTU over the hatch AC (2013), Nicro Solar Vent over galley

Safety Equipment
Life Jackets: 9, lifesling, EPIRB, double jack lines, 3 sets of new harnesses and tethers, searchlight

Tools
165 piece Cresent mechanics toolbox, assorted hand tools
wet/dry Shop Vac, Skill 12V drill, Dremel tool with many attachments
sewing machine

Others: this boat is in turn key condition and comes with many spares (engine, plumbing, electrical, maintenance, etc. Spare halyards, sheets, blocks, etc.)
Bed sheets, towels, blankets, and pillows
A large collection of Marine books and cruising guides
New cushions and upholstery in deck salon and forward cabin
New curtains in deck salon. Custom mattress in mid ship double Pullman
New headliner thru out

Just add grocery's and go!



| | | | |
| --- | --- | --- | --- |
| Dockside | Cockpit | Helm | Companionway |
| Galley | Inside helm station | Master bunk | Hanging lockers |
| Head | V Berth | Power distribution | Engine |


Asking $36,000.00
Located in Puerto Vallarta Mexico a great start point for either North, South, or Westerly voyaging.

Rob Neun
Email: robneun@yahoo.com
Telephone: +52 646 127 0189 (Encenada, Mexico)

Updated 12/21/14



---
Amigos - 1982 Islander 36

"AMIGOS" is an Alan Gurney designed Islander 36 originally commissioned in Southern California in1982. We understand that her first owner sailed her to Hawaii and that she had one intervening owner before she was purchased by a U.S. Navy man then stationed in Hawaii. He used her primarily for day sailing there for a few years and then sailed her to Poulsbo, WA. He sold her to us in April, 2000 in anticipation of his being transferred. We renamed her to reflect the longtime friendship of her 2 owners and used her for occasional cruising in British Columbia and lower Puget Sound until November 2004. We then brought her to the Columbia River in Oregon. Since 2004 we have used her very little: one major cruise up the Columbia River in 2005, one short trip up the Washington coast in 2008, and occasional day and overnight sailing on the Columbia River. She is now docked at Riverplace Marina on the Willamette River in downtown Portland.

We have made many upgrades and improvements over the years, and the boat is an outstanding, lightly-used example of a cruiser/racer classic. Her managing owner is 82 and her other owner is too occupied with other matters to use her. AMIGOS needs new owners who will give her the TLC and use she deserves.

HULL, DECK and RIGGING

White, original fiberglass in very good condition. Old bottom paint removed, a minor stress crack ground out and reglassed, 2 coats Trinidad paint applied, and hull waxed in July, 2011. Hauled, washed and waxed again in March, 2013.

Standing rigging--looks very good. We were told it had been replaced in 1998 in Hawaii, in preparation for returning to mainland USA.

Running rigging--varies from nearly new to just OK.


MECHANICAL

Pathfinder 4 cyl 50 hp diesel, starts and runs great. Glow plugs replaced in 2007. Freshwater cooling system upgraded, cutlass bearing, strut, driveshaft, PSS dripless shaft seal, shift and throttle controls, motor mounts and miscellaneous upgrade and service items new in 2006.

3 blade feathering Max prop new in 2001. Fixed 2 blade as spare.

3 automatic bilge pumps and 1 Whale manual in cockpit


ELECTRICAL

3 AGM Group 25 batteries, 1 starting and 2 house, new in 2008. House batteries are located below cabin sole on top of bilge for optimum weight distribution and minimum transmission loss to windlass and washdown pump; 4-way battery switch; test meter.

Masthead tri-light and deck level running lights new in 2008. LED bulb in tri-light.

30 amp shorepower cord for charger, hot water and AC outlets; breaker panel.


SAILS and related GEAR

150% genoa and main are the original McKibbin sails. They are in adequate river cruising condition, illustrating the light use and good maintenance they have had over 32 years. Smaller headsail in functional condition but no U/V protection.

North asymmetrical spinnaker, new in 2000 and in like-new condition now.

Harken lazy jack system, new in 2008.

Profurl roller furling. Boom vang and new Garhauer traveler. Jiffy double reefing on mast.

Winches: Barient 28 primaries and Barient 21 mainsheet, all self-tailing; mast mounted Barient 22 and Barient 21 for halyards.

Spinnaker/whisker pole with track on mast and deck mounts.


INTERIOR

Beautiful Islander teak paneling and ample cabinets and storage, teak and holly sole, all in very good to excellent condition; chart table with drawer, shelf above, and folding seat. Original plaid upholstery in very good condition, again illustrating the light use over 32 years.

CNG 3 burner stove with oven; in-service and spare tank in cockpit locker.

Hot and cold pressure water and stainless sinks in galley and head; shower attachment in head; foot pump in galley. Water pump new in 2008 and hot water system (both AC and engine-driven) new in 2006; well-insulated ice box.

Holding tank--all hoses and connections upgraded to premium quality in 2001.

Webasto diesel forced air cabin heat new in 2000.

AM/FM/CD Stereo with ipod connection new in 2008

Kerosene lantern mounted on bulkhead.


NAVIGATION and COMMUNICATION

Binnacle compass

Signet speed, wind, and depth (depth new in 2009)

Raytheon RL 72 radar and 2 kw transmitter on gimbaled backstay mount new in 2000

VHF with masthead antenna--plus handheld unit

Garmin 545s gps/chartplotter new in 2008, wired to feed Nobeltec on laptop at chart table; Garmin 152 new in 2000 retained as spare.

EPIRB new in 2008

Raytheon ST 3000 auto steering


MISCELLANEOUS

35 lb CQ anchor on bow roller. Horizon electric windlass in anchor locker on foredeck and 300' of high test chain rode in chain locker new in 2003. (300' of high test but low weight chain are very convenient in British Columbia waters.) Unused Fortress anchor with rope/chain rode stowed at stern.

Dodger and other canvas new in 2001.

Lots of upgrade/maintenance on steering, engine and electrical systems done in 2006-8.

Stern pulpit-mounted rectangular propane bar-b-que new in 2008

Cockpit cushions new in 2007.

MOB pole new in 2008; worn lifesling horseshoe on stern pulpit.

Folding teak table in cockpit.

The pictures below were taken 3 or 4 years ago at our dock in Scappoose, Oregon.


| | | | | |
| --- | --- | --- | --- | --- |
| In her slip ... | cockpit seat ... | cockpit table ... | instrument cluster ... | radar. |
| Interior forward ... | galley area ... | nav station ... | head ... | batteries in bilge. |
Asking $42,500.00

Milo Ormseth
Email: milo@ormseth.net
Telephone: (my hearing is awful: please use email if you can)
Home: 503-688-6749
Cell: 503-504-3805

2/2/15
7/15/14



---
Corret 1980

Since my wife Shirley passed away 4 years ago, I took the boat out may be 4 times.

Being in my 87th year, I thought it is time to sell Corret and use "other people's boats".

Should anyone know of someone looking for an islander 36, 1980 built, Corret is avaiable on the East Coast.

Equipment:

3 sails from North sails
Genoa. 2 years old
Geneker
Engine: pathfinder 1500 hours approx.
Raymarine: gps,autopilot,wind,speed,depth
Dodger, bimini wheel cover 1year old




Corret

Asking $19,000.

For more details, email Philippe Masiee: masiee@verizon.net

2/2/15
10/24/12


---
Ava-Nicole (formerly Mes Amis) - 1976 Islander 36

Mes Amis has been extensively refurbished.

10/24/12 Update: Recent improvements include new holding tank,a new Jabsco head, new Manual bilge pump and new electric bilge pump (2000) GPH.

She is a documented vessel.

Interior has been gutted out with the majority of the teak replaced. All new interior cushion covers as of 2010. Teak-Holly sole has been added. All ten port lights have been replaced. Hull was re-gel coated in 2010 and looks good. Deck has been awl gripped. Sink/faucets in galley and head replaced. Plumbing and wiring replaced as needed. Hull has been barrier coated (Interluxe 2000) and painted with Trinidad bottom paint in 2010. Mast painted with Awl-Grip. Engine is a Perkins 4-108 Diesel that runs well. Exact hours unknown.

Navman Instruments. Chart Plotter 5600, (3100) Wind speed Indicator, Knot meter and depth indicators. Ground tackle: 35lb CQR, 30 lb Danforth. Refurbished S-L Hyspeed Windless. Running rigging replaced as needed. Full set Sunbrella cockpit cushions. New Bimini top as of 2014. All six Barrient winches re-chromed. Four burner propane stove top added in 2013. Shoal draft version.

All sails have been to loft for inspection and replacement of sacrificial Sunbrella and new main sail cover as of 2013. Main and 150% Genoa about 75%. Jib essentially unused; hence, at 90%.

In excess of $35,000 in refit spent in in 2009-2010. Will assist in arranging transportation if needed. Boat at Marina del Sol in Kema, Texas. Open to a reasonable offer.


| | | | |
| --- | --- | --- | --- |
| DSC00267 | DSC00271 | DSC00275 | DSC00278 |
| DSC00395 | DSC00396 | DSC00398 | DSC00400 |
| DSC00409 | DSC00416 | DSC00421 | DSC00429 |
Asking: $38,900 or open to reasonable offer.

For more details or pictures, call Steve French, 832-341-7245
Email: sail01@sbcglobal.net

2/2/15
10/24/12


---
Sails and Parts for Sale:
---
Boat Cover for Sale

Full boat cover custom for Islander 36. The cover is in 3 pieces, in excellent condition, has extra ties and canvas to seal the shrouds, covers the toe rail about two feet down, has cut outs for dock lines, halyards, and backstay that buttons all around. It has lots of sandbags with pockets to keep it from blowing in heavy winds, and extra canvas and seal around mast. The aft piece can be opened for access to the boat.

This cover will keep your boat in great condition year around, and cover cost over $10,000 and is as good as you can get.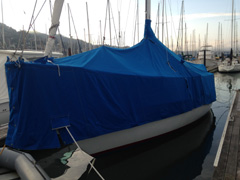 Beautiful Boat Cover.



Asking $3,500

Give me a call,

Markus Cole
(310)795-4225
markuscole1@gmail.com 2/6/15


---
Spinnakers for Sale

I have measured these Spinnakers and put prices on them to list them on the I-36 site. They are all also listed with a photo of each one on craigslist with the title "Spinnaker, Sail" in the North San Diego area which is where I live.

There are four, they are all triradial symmetrical;

1) Luff 47'9" Foot 24'1" , Good Condition (has been repaired), $400
2) Luff 46'6" Foot 26'6" , Very Good Condition, $700

They both include bags and I will vouch for their condition.

They are off of RASA my 1984 Islander 36.

My Cell Phone number is the best for contacting me. (760) 586-6902

Thanks in advance for your help,

Adam Q. Johnson
adamq@cox.net
---